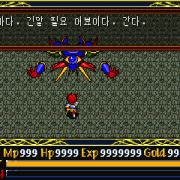 Hey guys, long time no see !
First of all, an exiting update concerning the Ys 2 Special Game Recording I posted a while ago.
zonx, from South Korea, posted a comment on the entry some months ago that unfortunately got lost in the spam filter. I thankfully went through the pending comments containing URLs tonight and noticed it through the pile of viagra advertisement in there.
Here's his message:
"Hi. I'm zonx from South Korea.

I think that your recordings are based on files in here : http://pl.ssu.ac.kr/~delios/adlib (now it closed temporally.)
But, that is not an actually game recording.
It just play *.rol files with bank file and recored it. The uploader said that some instructions are missed. (There is the note of the uploader wrote in Korean.)

So I play the game, record it digital, and make public a "Perfect" Ys II Special Game Recording at my blog.
Here it is : http://zonx.egloos.com/5753483

[unused] is the bgm that not used in game. It cannot be play on game so I copied the recordings on http://pl.ssu.ac.kr/~delios/adlib
[secret area] is the bgm that you entered secret area.
[Game World…… ver.] is arrange tracks."
So yeah, many thanks to zonx for his work and for posting about it here !!! VGM fans worldwide united !!! ^_^