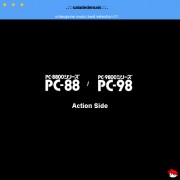 That one is an actual repost from the old days, i'll quote the nfo there too:
I never played PC88/98 or any other japanese retro PCs as a kid. In fact, I pretty much ignored their existence until a few years back. I discovered them, and their sound systems, thanks to my tastes in videogame music. Almost exclusively Falcom works at first, of course, then after much listening to Sound Team JDK's goodness, my ears kinda learned to appreciate the true minimalist power and poetry of those early chiptune sounds. I thus widened my horizons, and became quite addicted.
There is a reason why Falcom's music or people like Yuzo Koshiro are so famous, though: they do tend to rock much more often than the others. After listening to so many PC88 soundtracks, one understands why something like the first Ys OST was such a shock. Still, many hidden gems are hiding in what could sound like an average, or even mediocre soundtrack, at first. This is of course the reason to be of this compilation.
Enjoy ~