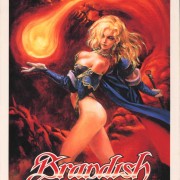 Among Falcom' successful series, Brandish is one of those that gets the less attention. Perhaps the fact it's actually not a part of the Dragonslayer timeline is to blame ? Who knows …
Anyway, Brandish music, while still having that particular Falcom sound, is a lot more melancholic and dark than it's fellow trademarks. I personally love the resulting atmosphere and melodies, especially in Brandish 1 which got some of my favourite Falcom tunes (oh Mieko Ishikawa <3).
Those 2 recordings were given to me by a Japanese guy I met on Last.fm. They sound different from the original soundtracks (different hardware I guess) and are actually looped twice.
Enjoy ~
(ps: cover above is actually the Renewal edition, but I think it rawks so heh ~ )