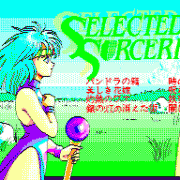 Hey guys ! Remember when I posted this in 2009 and kinda implied there's be a follow up ? Well there it is !
In this pack, you'll find the never released on disk soundtracks of the 5 Selected Sorcerian games.
As hardcoregaming101 puts it, "The Selected Sorcerian disks were created through a contest held by Comptiq magazine of Japan. Users submitted scenario ideas/designs, and the editor-in-chief of Comtiq and the president of Falcom presided as judges. Each scenario disk contained two new scenarios to embark upon."
They were licensed by Takeru Soft and developed by Amorphous, and as such no "Sound Team JDK" member worked on the music. Hiroshi Nishizawa and Daisuke Takahashi handled it pretty well though and the Sorcerian feeling is there indeed. Some of the original compositions occasionally were re-used too.
These recordings of the PC88VA versions were found on Japanese P2P software Share years ago.
So yah, eventhough that's not exactly Falcom work here, that's still something new for most of you Falcom fans to feast your ears to ! Enjoy ! ^^