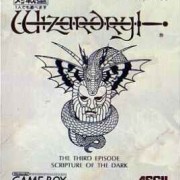 Been a while, heh ? This one is an old rip of mine. I'll just quote the nfo:
I never played this game, except for the tiny part that became required when ripping the music. The reason I ripped this game is the arrange album based on it: "Wizardry Gaiden III ~ Scripture of the Dark" (COCC-11006) which was arranged by Ikuro Fujiwara himself and is simply wonderful. It was a pleasant surprise to find that the greatness of this album wasn't due to extra melodies like it's sometimes the case, but rather to the fact that the original game music it is based on is good to start with.
I searched for a while for a way to rip GBS directly from the ROM and tried the jap utility GBSND that some site describe like GB ROM to GBS utility (they lie or just don't know what the fuck they're talking about). After I understood that it's in fact an utility to convert SND logs extracted with the jap GB emulator DBOY, I gave up on it and decided to record the audio from the game. I fortunately found a code unblocking a Bonus Mode which unlocked a Sound Test and could record the whole thing (enter " -PIN- " including spaces in the Training Ground to unlock it).
I then encoded the WAVs to MP3 APS and named the tracks partly after the arrange album.
So yep, that's it, enjoy the music ~
01. Overture of Scripture of the Dark
02. Overworld
03. Streets of Dalia
04. Inn
05. Shop
06. Temple of Revival
07. Training Ground
08. Maze 1
09. Overworld Short Reprise
10. Maze 2
11. Battle 1
12. Requiem
13. Maze 3
14. Passade 1
15. Maze 4
16. Battle 2
17. Maze 5
18. Maze 6
19. Battle 3
20. Maze 7
21. Unknown
22. Maze 8
23. Passade 2
24. Maze 9
25. Battle 4
26. Victory
27. Ending 1
28. Ending 2
29. Finale – We Go on a New Journey