Categorie 'Lif' » Archiv
---
---
December
6
2005
Montreuil était horrible. Non seulement mes RDV entre directeur artistiques qui donnent 17 secondes et demis à votre book et ceux, plus gentils/scrupuleux qui mettent un peu plus de temps à vous dire que c'est très joli mais n'entrent pas dans leur ligne d'édition n'ont rien donné, mais en plus j'ai passé la journée à parcourir des centaines de mètres carrés où je n'ai senti à aucun endroit avoir ma place.
Voili voilà, déçu bien que je n'attendais pas de miracle, et assez découragé. Je ne sais pas très bien ce que je vais faire. Je n'ai pas envie de tuer Lif, Kaya le Renard ou Mimi la Martre, mais j'ai vraiment l'impression qu'ils n'ont pas leur place dans l'édition d'aujourd'hui. Enfin bon j'y verrais plus clair un peu plus tard j'imagine.
Voici toujours la dernière pleine page que j'ai dessiné dans la nuit de dimanche à lundi. Lif arrive chez Kaya qui va le décider à partir à la recherche du loup pour connaître ses intentions.
Montreuil was terrible. Not only did my appointments with directors, be the ones that gave 17 seconds and a half to my book or those who took more time to tell me it was nice but didn't stick to their editing line out of kindness, gave nothing at all, but I also spent the whole day walking in a huge building here I found no place I felt I belonged to.
So there, disappointed eventhough I wasn't expecting that much, and discouraged as well. I'm not sure what I'm going to do from here. I don't want to kill Lif, Kaya the fox or Mimi the marten, but I really feel like there's no room for them in today's editing world. Well, I'll see things clearer later, I guess.
Here's still the last full page I drew on Sunday night. Lif arrives at Kaya's place who's going to persuade him they'got to chase the wolf and ask him about his intentions.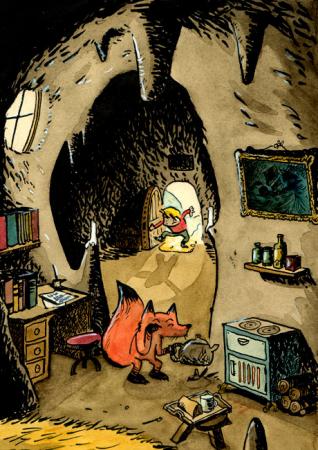 ---
---
---
---
---
---
---
---
---
---
---
---
---
---
---
---
---
---
---