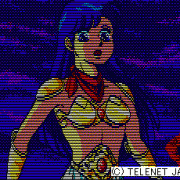 More than a year since an update. I hope you guys still have us in your RSS readers !
Anyways, here are recordings from the first 1986 Valis game. Both PC88 OPN and OPNA versions are contained in the archive. I converted them from an s98 archive long ago, and don't know how faithful they are to the originals, but they stand, in my opinion, among the most impressive early chiptune works. Shinobu Ogawa was still the only composer for this fist episode, before Tenpei Sato joined him for the more popular episode 2 (which contains rocking tunes as well indeed).
What I like about what we have here, is how complex some of these tunes are, and yet how crystalline they sound. There's a lot of metal influence, as been proven since then by the awesome Toshinori Hiramatsu, and the mood varies from epic, to dark and melancholic in 15 short songs.
Anyway, enjoy ~