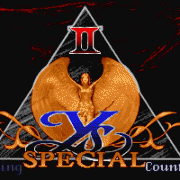 I never thought I'd one day make something as awesome as adding "Falcom" and "SoundTeMP" tags to an entry here on saladedemaïs. This day has arrived though, and to explain how, I will quote Seldane/FM77, who's responsible for bringing that gem to the light:
"In 1994, something fantastic was created. A Korean company known as MANTRA released a game called Ys II SPECIAL – under the slogan "Features For The Future."

"Ys II SPECIAL is – just like Ys II ETERNAL – a remake of the original Ys II. However, Ys II SPECIAL is so much more than just a remake. It can be compared to what Taito did with Ys IV: Mask of the Sun. They gave the game a whole new layout – a whole new feel – and named it Ys IV: Mask of the Sun – A New Theory. This is what MANTRA did – they made "a new theory" of Ys II. (Although – unlike Taito – MANTRA succeeded in it.)"
Exited yet ? Wait for the rest …
"It contains all the music from Ys II, but since this game contains so much more than Ys II does, it needs more music. And it has. Lots of it. And it is good! It was composed by a group of Korean musicians known as soundTEmP."
Bam. There you go. Suddenly you realize there's Falcom music arranged for DOS Adlib by the composers of Ragnarok Online out there. Oh, and I don't know about you but I'm also an Adlib fan by the way. So yeah, I just had to get my hands on this. A link to a Korean website containing all the recorded tracks was posted on Seldane's Ancient Land of Ys, but turned out to be dead. Fortunately, I managed to get them from someone who carefully saved them (thanks again Groenegel <3), and could finally feast my ears on this improbable awesomeness. And here it is delivered to you, faithful *cough* readers. I tagged, renamed and reordered everything according to the usual Ys 2 tracklisting, incorporating SoundTeMP's work here and there. I didn't play the game though, so the order probably won't make sense to those who did (approximately 7 people outside of Korea, that is).
As a bonus, I added arranged tracks from this album. ;)
Well, enjoy !!! :D
edit 24/03/2011: tracks reordered and renamed after Groenegel's recommendations ;)
Read Seldane's full Ys II Special Article
edit 04/10/2013: new proper recording by zonx !