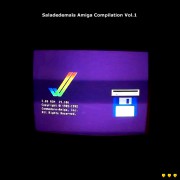 We're back after almost 2 years. Sorry guys! But I didn't waste my time and I've listened to tons of Amiga game music. Even if I really like the "Amiga sound", not all music is worth listening. So I've made some selections I would like to share with you.
I haven't played all those games, so when I don't know where the music is from in the game, I just tagged "Ingame".
More compilations will come (shortly I hope)!
Special thanks to Titan and Moonchild for their high-quality rips.
Enjoy! Olive~