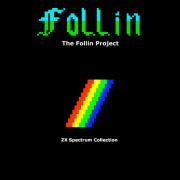 The Follin Project was started on a forum with various members. It aimed at recording MP3s of all VGM related works by Tim and Geoff Follin.
Although recordings from original hardware were announced to be preferred, the produced recordings were most of the time from emulated game music logs. The project generated quite a lot of enthusiasm for a while then, as expected, died. However, in the meantime, quite a lot has been made.
This first volume are recordings from the ZX Spectrum games the Follin brothers composed for. I did those from emulated game logs, and I've been told the sound isn't always very accurate, but heh, I don't own a ZX.
Enjoy ~
01. StarFirebirds – Hall of Fame
02. Subterranean Stryker – Title
03. Vectron – Title
04. Agent-X 1 – Title
05. Black Lamp – Ingame
06. Black Lamp – Game Over
07. Future Games – Title
08. Future Games – Start Event
09. Future Games – End Event
10. Future Games – Game Over
11. Agent-X 2 – Title (AY + Beeper)
12. Agent-X 2 – Title (Beeper)
13. Agent-X2 – Level 1
14. Agent-X2 – Level 3
15. Bubble Bobble – Intro – Ingame
16. Bubble Bobble – Ingame – Hurry
17. Bubble Bobble – Bonus
18. Bubble Bobble – End of Game Guardian
19. Bubble Bobble – Game Over
20. Bubble Bobble – SFX
21. Bubble Bobble – SFX
22. Chronos – A Tapestry of Time – Title (AY + Beeper)
23. Chronos – A Tapestry of Time – Title (Beeper)
24. The Sentinel – Transfer
25. The Sentinel – Hyperspace
26. The Sentinel – U Turn
27. The Sentinel – Secret Entry Code
28. The Sentinel – Game Over
29. Bionic Commando – Stage 1 – Forest
30. Bionic Commando – Stage 2 – Forefront
31. Bionic Commando – Stage 3 – Infiltration
32. Bionic Commando – Stage 4 – Control Room
33. Bionic Commando – Stage Clear
34. Bionic Commando – Game Over
35. Bionic Commando – High Score
36. LED Storm – Title
37. LED Storm – Storm Navigating Computer
38. LED Storm – Ranking
39. Raw Recruit – Title (48k and 128k mixed)
40. Raw Recruit – Title (48k)
41. Star Paws – Title – Ingame
42. Star Paws – Bonus Round 1
43. Star Paws – Bonus Round 2
44. Ghouls n' Ghosts – Title
45. Ghouls n' Ghosts – Start
46. Ghouls n' Ghosts – Level Complete
47. Ghouls n' Ghosts – Game Over
48. Ghouls n' Ghosts – Continue
49. Ghouls n' Ghosts – Hi Score
50. Missile Ground Zero – Title
51. Peter Pack Rat – 01
52. Peter Pack Rat – 02
53. Peter Pack Rat – 03
54. Solar Invasion – Title
55. Solar Invasion – SFX
56. Gauntlet 3 – The Final Quest – 01
57. Gauntlet 3 – The Final Quest – 02
58. Gauntlet 3 – The Final Quest – 03
59. Gauntlet 3 – The Final Quest – 04
60. Gauntlet 3 – The Final Quest – 05
61. Gauntlet 3 – The Final Quest – 06