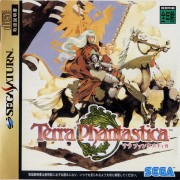 Here is Terra Phantastica OST recorded from Sega Saturn hardware by Emperor Udan at niki's request.
The game was released only in Japan on 12-1996 as [GS-9054] and a classic version was out on 11-1997 as [GS-9176]. None OST of this game was ever released.
Music tracks on original cd-game can't be ripped like most of Saturn game but fortunately for us, there is a sound test in option screen, explaining that sound quality is pretty good but not perfect because of the hardware.
This game, like most 2D Tactical RPG from those years, always inspired me good quality game with unique magical ambiance and a good deep story in a small world appart.
Musics here are a bit more classical compared to T-RPG for me but make me feel the same way.
Eventhough I like this kind of game, I'm not patient enough to go through them. To be honest, I don't play this game a lot. Like Tactics Ogre on Super Famicom, I often listen music of the game without playing it a lot.
Hope this OST make you want play the Game.