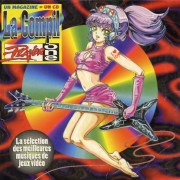 Player One was a French video game magazine. In the mid 90s, they released a couple videogame CDs bundled with the mag. That one probably was the first VGM CD I ever owned. Well, there was also that DBZ Budokai 3 one, now that I think of it …
Anyway! This CD is quite famous among French video game fans, and I think it actually deserve some international attention. Not only is it a pretty neat compilation of early 90s titles, but it also has some pretty rocking live arrangements. The couple original songs are kinda meh, though.
Unrelated, but the archive for Lord of the Rings pack 2 has been updated with the repaired track 5 provided by Sagi. Many thanks to him.
Enjoy ~
01. Intro (Playeeer !)
02. Sparkster Snes – Stage 1 Level 1
03. Spiderman X-Men Arcade's Revenge Arranged
04. Sparkster Snes – Stage 3 Level 1
05. Player One – Le Combat De Tom B
06. Earthworm Jim Snes – New Junk City
07. Novastorm CD-Rom – Just Desert
08. Novastorm CD-Rom – Space City
09. Global Gladiator MD – Ouverture
10. Global Gladiator MD – Dance Tune
11. NBA Showdown 94 – Slammin'
12. Super Adventure Island 2 Snes – Ouverture
13. Super Adventure Island 2 Snes – Calypso
14. Super Castlevania 4 Snes – Stage 1 Level 1
15. Super Castlevania 4 Snes – Stage 1 Level 1 Arrange
16. Super Castlevania 4 Snes – Stage 6 Level 1
17. Castlevania The New Generation MD – Stage 1 Level 1
18. Castlevania The New Generation MD – Stage 3 Level 1
19. Earthworm Jim Snes – What The Heck
20. Downset – Anger
21. Cool Spot Snes – Wipe Out Tune
22. Earthworm Jim Snes – Andy Asteroids
23. Nickelodeons – The Ren & Stimpy Show – Title Theme
24. Flink Mega-CD – Theme
25. Little Big Adventure CD-Rom – Theme
26. Street Racer Snes
27. 3DO Driving 3DO – Driving The Simulation
28. Road Rash MD Arrange
29. Road Rash 3DO – Slippin' Rash Trash
30. Game Over (+ Donkey Kong Country – La Pub)