February 19th, 2015 Leonid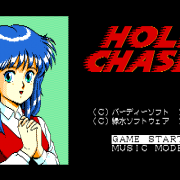 Hole Chaser is a PC88 game from 1990. The game is old and the gameplay looks like… chasing holes, but the music is great. This is one of the best uses of bass and drums I've heard. The compositor Masahiro Kajihara is best known for Valis 2 or Princess Maker 2.
This soundtrack includes both OPN and OPNA versions as there are only few tracks and they are almost completely different. The tracks are encoded to MP3 from Hoot. Thanks to the Hoot community for making the music available and to Kurohane for his HootFavoritter, which makes it much easier to compile the tracks.
Enjoy !